SFS Strategy 2030
SFS Strategy 2030 aims to build an efficient and safe world.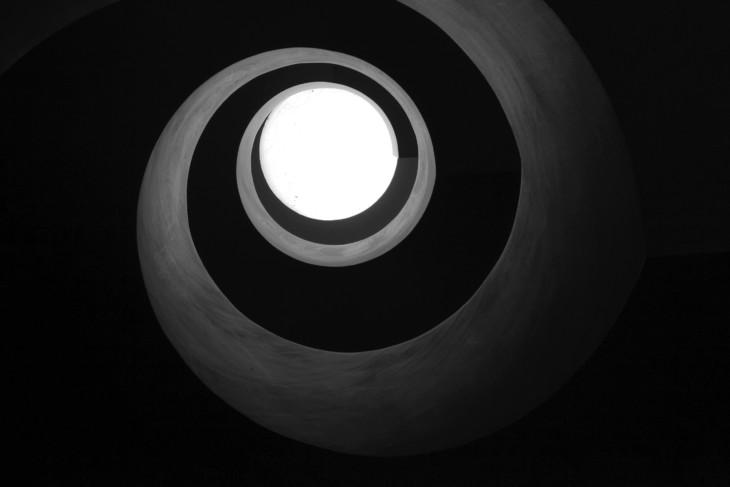 Strategy is thinking that drives actions to be successful in competition.

Robert A. Burgelman
SFS (Finnish Standards Association) is a member of both CEN (European Committee for Standardization) and ISO (International Organization for Standardization) and is the national central organisation for standardization in Finland. In Finland, the standardization areas on the European and global levels are divided between several standardization organisations, i.e. the Standards Writing Bodies, that have an agreement with the Finnish Standards Association SFS to manage their particular standardization areas. This joint effort between SFS and its affiliates constitutes the Finnish standardization community.
Lately, both CEN and ISO have been drafting their new 2030 strategies. Many of the strategic question that have arisen during this process are similar to those that were found relevant when developing the strategy for SFS. Overall, SFS's strategy is well in line with the strategies of both CEN and ISO.
SFS Strategy 2030 is a strategy document for change that will be reviewed regularly. It is not meant to describe everything SFS does.
Mission
Sustainable growth and welfare through cooperation in standardization and the use of standards
We build and enable cooperation. Our services promote active participation in standardization and successful use of standards. We bring general welfare through productivity and sustainable growth:
Innovations → Productivity → Competitiveness → Sustainable growth → Employment → Welfare
Slogan
SFS – for an efficient and safe world
Efficiency includes performance as well as resource and energy efficiency, which are crucial for sustainable development. Standards enable the commercialisation and global distribution of efficient solutions. Climate change and the needs of sustainable development create countless new opportunities for companies and organisations. By utilising standards, companies can enhance the efficiency of their operations and bring new commercial products and solutions to the market in a timely manner.
Efficiency and safety can be seen e.g. in flexible selection of supply chains, logistic solutions, processes, health care and consumer safety.
Vision 2030
In 2030, SFS is operating in the digital frontline and creates significant and measurable value to its customers
Objectives 2030
The majority of companies employing over five persons as customers. Finland holds several ISO and CEN secretariats (TC, SC)
Our objective is to significantly increase the number of both those participating in standardization and customers purchasing our products. We strive for the participation of as many different parties as possible so as to facilitate appropriate representation. We have set milestones that we monitor and measure systematically, with a focus on participation in the whole Finnish standardization community. Special attention is paid to strategically important horizontal and cross-boundary standardization areas, the number of which is growing steadily. For these areas, we set out common rules to create synergy, facilitate participation in working groups and disseminate information.
These milestones are reached by making decisions based on the following approach.
SFS Approach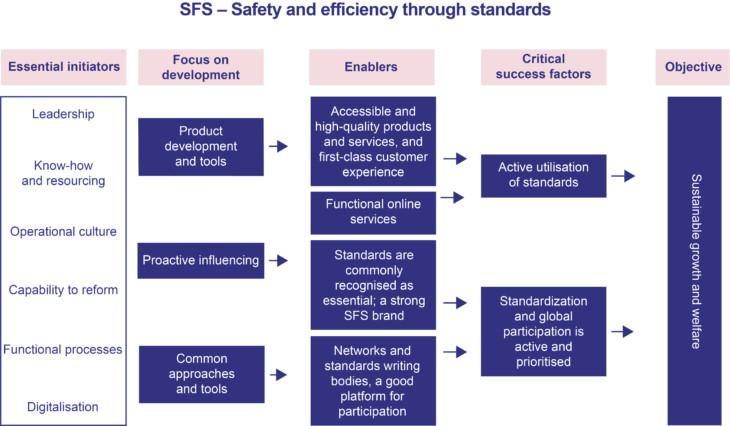 Strategic choices
Objectives for 2030 are fulfilled by setting challenging objectives and functional annual monitoring for the following topics critical for SFS's value creation:
first-class customer experience through products and participation tools; and
active stakeholder involvement and influencing, and close cooperation among standards writing bodies.
A profound understanding of our customers as well as product and operations development based on customer needs are the cornerstones of first-class customer experience.
In addition, a continuous, cross-organisational and systematic development effort is implemented for the following themes:
leadership;
know-how and resourcing – especially on topics that are critical for value creation;
operational culture and capability to reform – the objective is to create an self-optimising organisation and a standardization community working together for shared goals; and
digitalisation and functional processes.